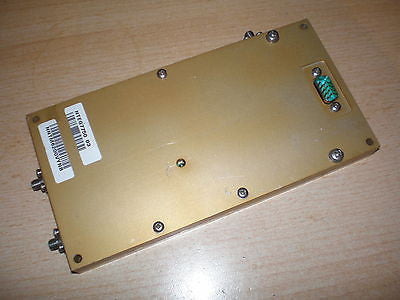 Ionica 9cm Receive Converter
---
We have had a quantity of base station equipment , aerials and other RF modules which we have broken down for sale to the radio market as each person wanted different pieces which may or may not have come from the complete system which we believe to have been used for a WIFI max system that is it could be used with greater range.
The following details we have guessed at by looking at the details that we have found. There are some excellent notes on the net in particular this web page with most of the parts we have http://www.dc2light.pwp.blueyonder.co.uk/Webpage/9cm.htm written by GM41SM
Ionica 9cm receive converter
This is a well made and constructed 9 cm unit size approx 20 x 10cm input by smas, to make just the box would cost more than we are selling the units for, originally it was working at 3.4ghz with an IF of approx 947mhz.
converter gain about >49db noise 3.3db really wonderful unit
We have recently increased our prices. For some of our parts the price is listed in the item title , for example: 10uf 16v capacitors Item 140 100 pieces for £1.00, we have been unable to change this. The quantities per order are correct but please look at the buy it now for correct price.
We have increased post charges due to the Royal Mail increasing their prices. They have new price ranges so we have done our best to accurately update our charges but we will be monitoring costs to check we have done this correctly. We add £1.00 for packaging and handling so if you receive an item that seems alot more than this, let us know so that we can correct it and refund you for the overpayment. Thank you.